Chandigarh, in the state of Punjab in northern India, is a thriving metropolis that draw in many people yearly. This brand-new city was constructed in 1950 according to plans drawn out by Swiss-French architect Le Corbusier. The things to do in Chandigarh are many like lakes, gardens, boulevards. Best places to visit in Chandigarh are Nek Chand Rock Garden, Pinjore Gardens, Sukhna Lake, Bhima Devi Temple, Le Corbusier Center, Capitol Complex, and beautiful temples are just a few of the must-sees during your time in Chandigarh.
Best Temples In Chandigarh are a major reason for the heavy influx of tourists in the city, with people traveling from far and wide to seek blessings. As such, we feel it is important to highlight the holy landmarks of the city that hold deep significance in the lives of people not only from the city but from all over the country.
Famous Temples In Chandigarh and mosques can also be found in the lovely city of Chandigarh. Popular Chandigarh temples reflect the city's status as a melting pot of cultures by including temples constructed by devotees of many various religious and social backgrounds.
Many people come to Chandigarh to worship at one of its many temples, and some of the best ones to see are:
The top 8 temples to visit in chandigarh
The Mata Mansa Devi Temple
Chandi Temple
Jayanti Devi Temple
Shirdi Sai Baba Temple
 Gurudwara Nada Sahib
Gurudwara Amb Sahib
Saketri Shiva Temple
 Sri Karthikeya Swamy Temple
Some of the most Famous Temples near Chandigarh, and the following are just a handful that you should take notice of during your stay.
1. The Mata Mansa Devi Temple
Among the many noteworthy Chandigarh temples are the Mata Mansa Devi Temple, dedicated to the goddess Mansa Devi. Thousands of devotees flock to this temple in the foothills of the Shivalik Hills every year in the hopes of finding salvation. Among the most revered religious buildings in all of India, the Mansa Devi Temple in Chandigarh is dedicated to not one but seven different goddesses. When the temple is flooded with thousands of worshippers in the Navaratri Mela, you should see the Mansa devi Chandigarh.
Sector 5 in Panchkula, at the Mansa Devi Complex on Panchkula Road.
2. Chandi Temple 
Dedicated to the Hindu goddess Chandi, the Chandigarh-Kalka road temple of Chandi Mandir is the most well-known of all the temples in the city. Against the backdrop of the Shivalik Hills stands a temple dedicated to a wide variety of Hindu gods and goddesses, including Chandi Devi, Radha Krishna, Shiva, Hanuman, and Ram. From the temple, you will have a breathtaking panorama of the landscape. During the Navaratri festival, this temple becomes a hub for thousands of worshippers.
Place: on the main road between Chandigarh and Kalka
3. Jayanti Devi Temple
Jayanti Devi Temple, on the outskirts of Chandigarh, is one of the city's most well-known religious sites. Besides Goddess Jayanti, other deities worshipped at this temple include Ganesha, Shiva, and Laxmi. It's on the Shivalik hills and has its own unique vibe; getting to the temple's summit entails climbing 100 steps.
Jayanti Majri is in Chandigarh.
4. Shirdi Sai Baba Temple
Shirdi Sai Baba Temple was established in 1989 on land donated in the middle of Chandigarh. This temple is open every day of the year, and as a result, it attracts many people who come to witness the evening aarti. The temple's new idol was reportedly shipped from Jaipur. It would be best if you visited this place to see the extraordinary devotion of the worshippers. In 1979, at A.C. Bhaktivedanta Swami Prabhupada's direction, a temple for the International Society for Krishna Consciousness was constructed in Chandigarh. The majority of visitors come to engage in Krishna awareness in accordance with the guidelines outlined in the Bhagavad Gita. Devotees pay homage to Shri Radha Madhav each and every day during the darshan. On Sundays, devoted followers are observed engaging in chanting and dancing.
Specifically, you'll find yourself in Chandigarh's Sector 36.
5. Gurudwara Nada Sahib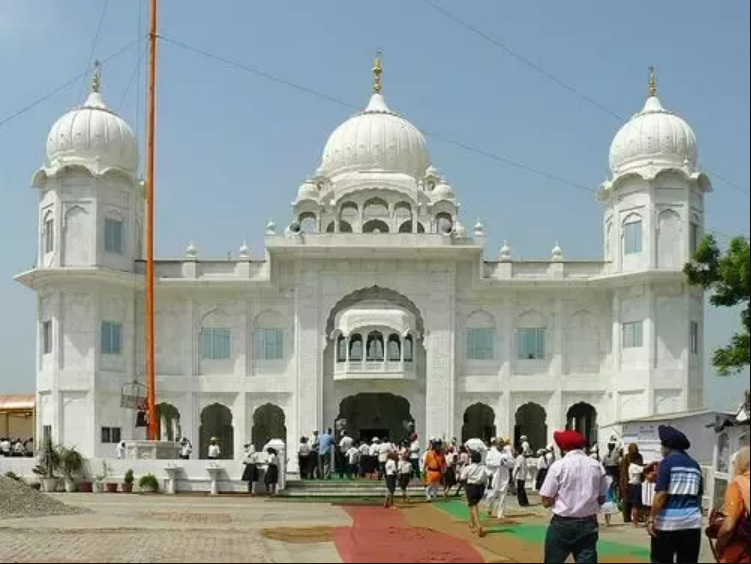 Gurudwara Nada Sahib, one of the most popular gurudwaras in Chandigarh, is located near Panchkula, 15 kilometers from the city center. It is said that there is an interesting tale behind the gurudwara situated in the Shivalik Range's foothills. Many people think that Guru Gobind Singh gave Baba a blessing predicting that thousands of people would come here. Every time there is a full moon, the temple gets swarmed by worshippers.
134109 Nada Sahib, Panchkula, Haryana
6. Gurudwara Amb Sahib
This gurudwara, frequented by thousands of believers annually, is said to have been visited by the seventh Guru, Har Rai. The Guru arrived in 1659, prompting the construction of this gurudwara, where he met his student Bhai Kooram. There is a legend that the Guru converted the lawless inhabitants of this area to the Sikh faith.
Sahibzada Ajit Singh Nagar, Sector 62, Punjab 160062
7.  Saketri Shiva Temple
The Shiva Temple in Saketri, a small town in Panchkula, is an extremely old religious structure that has likely been around since the time of the Pandavas. Seven different temples honor various deities on campus, but Lord Shiva is revered above all. Traveling worshippers flood the temple at all hours of the day.
Panchkula, Chandigarh
8. Sri Karthikeya Swamy Temple
Sri Karthikeya Swamy is a temple in Chandigarh devoted to Kavadul Murugan, a deity revered in Tamil culture. It was constructed by Tamil Nadu refugees living in the city. Lord Murugan is the temple's central deity, with Devasena and Valli flanking him on either side. Numerous deities, such as Krishna, Mariamman, Durga, Ganesha, Vishnu, and others, are represented by statues on the temple grounds. In or around the year 1980, construction on the temple began.
Sector 31D of the Air Force Complex.
Attracting thousands of worshippers each year, this city goes all out to celebrate Shivratri. This sacred space exudes an air of total submission. Located around 5 miles from Panchkula's equally holy Mansa Devi Temple.
Temples play an important role in modern society by preserving ancient customs. The stunning temples in Chandigarh serve this purpose admirably, assisting locals and visitors alike in maintaining spiritual ties. Almost every neighborhood in the city is home to a temple, and its residents often attend services there. In addition, Chandigarh's neighboring temples attract many visitors throughout the year. Unfortunately, there is not enough time to visit every single place of worship in the area. Therefore, we have compiled a list of the most well-known ones located in and around Chandigarh.